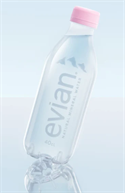 As part of its efforts to be a fully circular brand, with all bottles made from 100% recycled plastic by 2025, Evian has launched a label-free 400 ml bottle that features an "Evian pink" bottle cap. Since labels or the adhesives they use are typically non-recyclable, their presence on a bottle complicates recycling. The new Evian bottle sidesteps this by engraving the logo and tag as the bottle is being formed.
This is an elegant solution to the label problem, but raises a couple of issues. One is that the cap is still made from non-recycled material. The other is that the bottle does not have a bar code, which means it cannot yet be sold in stores. Instead, it's suitable for online sales where barcodes are not needed. As well as restaurants, hotels and hospitality venues. The company did not provide any insight into the additional cost entailed by this process, but did say the innovation took about two years to implement. The bottle will be available in France beginning this month, and in additional countries from September.
A Danone research engineer said the new engraved logo preserves the natural beauty of the bottle and brings it "closer to the water's purity." "Our revolution makes old plastic the ultimate new innovation," he added.
[Image Credit: © Evian (Danone S.A.)]